21/09/12 - The painting of Storm I bought from the talented artist Steven Nesbitt.

www.stevennesbitt.co.uk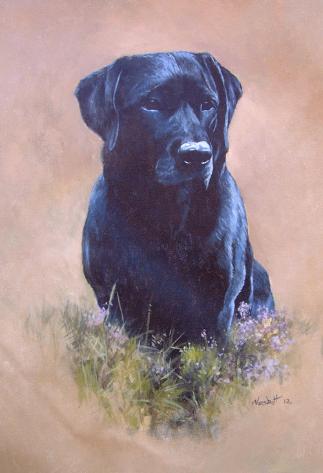 03/08/12 - I ran Kim today in the Moray Firth Spaniel & Retriever Club Novice test at Moy Game Fair and we came 3rd. Very happy with my little Kim.

17/06/12 - A great day at Glamis Castle today with the Central Scotland Gundog Club working test where Kim and Coe both came 3rd in their classes.

10/06/12 - Kimmy wins again at the MFSRC test at Ralia. Little Coe came 4th in her class, only 2 points behind the winner.

03/06/12 - Storm gave birth to 4 pupppies this evening. Unfortunately the 1st pup got stuck coming out backwards and we lost him. Im left with 2 bitches and 1 dog. All pups are spoken for.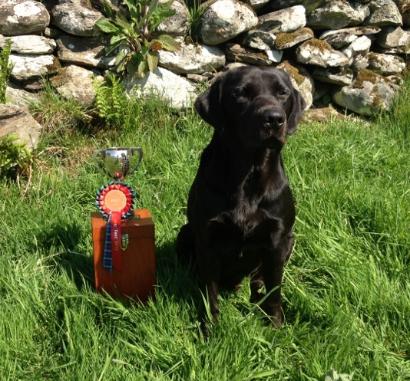 27/05/12 - A lovely day had at the North of Scotland Gundog Association test today. Beautiful weather and fantastic ground along with great success for the Lochandaimh dogs. Brec came 4th in the Novice Retriever, Kim 3rd in the Spaniel Puppy and Raven won the Novice Retriever.

14/05/12 - I picked up the new addition to the Lochandaimh Kennels today. Gaugerhall Ava (Raven x Skye pup). Ava is a real smart cookie and already a very keen retriever.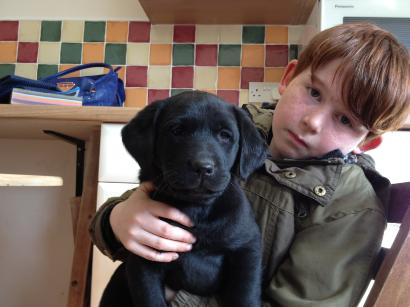 06/05/12 - Finlay (F.T.CH Denbrig MacAllan at Aithness) has been tested clear for CNM, meaning Coe is now clear by parentage.

28/04/12 - Great result for the Lochandaimh Pups today as Kim and Coe both received 3rd's in their classes.

20/04/12 - Kali has been scanned and unfortunately she is not in pup. I will try again with her in 3 months time when she is due back in season.

13/04/12 - Raven has been mated tp a lovely black Birdsgreen bitch (F.T.CH Mansengreen Diesel of Birdsgreen x F.T.W Sebow Laurel of Birdsgreen). Pups are due around 15/06/12. Contact Jock Brennan on 07540462923 for more details.

04/04/12 - I took Storm down to York to be mated to Goose today. Fingers crossed we have lots of beautiful puppies in 9 wks time.

22/03/12 - Skye gave birth to 9 healthy puppies. 5 dogs and 4 bitches, all black. Well done Skye.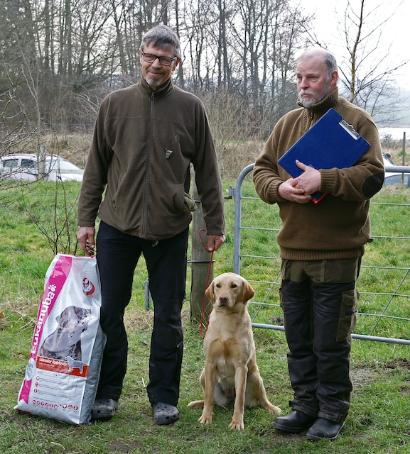 17/03/12 - Steen and Smilla were at another Field Trial (on cold game) this weekend – and once again they won best out of 20 in a Beginner Class.
11/08/12 - I ran Raven and Kim at the Moray Firth Spaniel and Retriever test at Novar Estate today. Raven finished 5th in the Novice Retriever out of 19 dogs and Kim came 1st in the spaniel puppy out of 11 dogs. Very chuffed with my little Kim as this was her and my 1st ever spaniel test.

07/03/12 - Raven has been mated to a lovely little fox red bitch by Charlie Thorburn's Rhum (In hot pursuit of Mordor). Pups are expected to be black and yellow/fox red and are due around 09/05/12. You can contact Christopher Renolds on (01764) 683468 or 07887955100.

05/03/12 - Kali was successfully mated to Conbhairean Waro. Pups expected 07/05/12. Contact me for more details.

04/03/12 - Lochandaimh Clover (Smilla) and Lochandaimh Conan (Scotty) have their own pedigree pages at Sweetwaters Kennels in Denmark. Follow them on the link below.
02/03/2012 - Lochandaimh Labradors have moved. Please check out the contact us page for new address.

04/02/2012 - Steen and Lochandaimh Clover (Smilla) winning a beginner field trial in Denmark. She was the youngest dog there.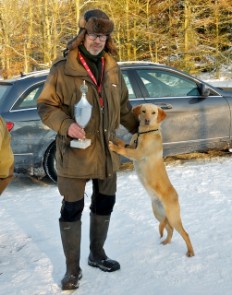 22/01/2012 - Raven has been mated to a lovely black Hyndford bitch Hyndford Even Money (F.T.CH Avonstream Acclaim x Hyndford Apalachee). Pups are expected 25/03/2012. Blacks and possibly yellows will be available. Contact Alastair Keiller on 07545066139.

13/12/2011 - Brec has been mated to a nice black working bitch in Aberfeldy, from Welston and Croftweit lines. Pups due on 14/02/2012. Expected black, yellow & possibly red pups. Contact Mike Broad on 07740877583.